Book here https://www.luxcorfuairporttransfer.com/
For reservation of Tour choose Port (Corfu), go on drop-off location and choose your Tour;
If you come by cruiser, in the field ''Arrival cruiser'' fill in name of Cruiser to continue process;
(see description of tour bellow the picture)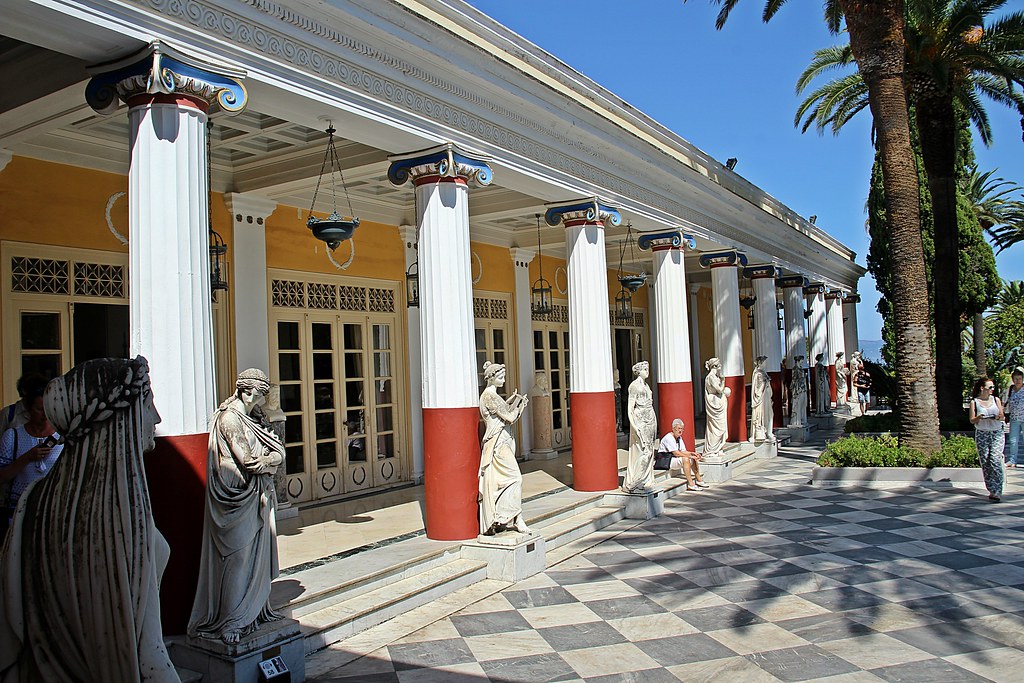 Departure will take place from your location towards the historical palace of Achilleion, the beloved resort of famous Austro-Hungarian Empress Elisabeth Amalie Eugenie, popularly known as Empress Sisi.
This historical place was built for the needs of the Austro-Hungarian Empress where she spent moments in this lavishly building of ancient Greek architecture and it's especially chosen for its unique geographical position offering a panoramic view.
In the Palace you will have the opportunity to see her personal belongings, visit the rooms where she stayed and to wander through the lavish gardens where and she was walking, enjoying the inimitable view of gorgeous Corfu island. The visit will take approximately cc 1hour.
Before arrival at Achilleon palace, we will stop cc 45min to present you Lazaris factory, where you can taste for free different local products from this top producer, and if you wish you can buy the products in affordable prices.
Upon your return from Achilleion palace you will see the Kaiser bridge, built by famed Germany, Emperor Vilhelm II, who was the second owner of Achilleon.
We will also stop across airport runway-Kanoni lookout, where we will pass on foot on the opposite side, to the picturesque site of Kanoni.
At this point, you will have time to relax for cc 40min, with coffee and light snack; here you can take photos in front of the church of Vlacherna, located in blue Ionian sea. Bus will wait for you on the parking, from where we will move at agreed time toward old town.
Upon arrival in old Corfu town you will have cc 50min, to enjoy its uniqueness and beauty.
If you choose your guide you will accompanied you, but if you don't want to, you can meet at agreed time in front of the old fortress, to the bus.
After finishing with the sightseeing of the old city we will descend toward the port at your terminal, location of your cruiser.
| | | | |
| --- | --- | --- | --- |
| 1-4 persons | 310€ | 1-4 persons with guide | 460€ |
| 5-8 perosns | 470€ | 5-8 perosns with guide | 620€ |
| 9-12 persons | 580€ | 9-12 persons with guide | 730€ |
| 13-16 persons | 740€ | 13-16 persons with guide | 890€ |
| 17-20 perosns | 900€ | 17-20 perosns with guide | 1.050€ |
Tax included in price
Program include:
Welcome on terminal port of Corfu- cruiser
Transportation by highly standardized and air-conditioned vehicle
Profesinal english speaking tourist guide (if is booked)
Refreshments in vehicle (bottled water or juice)
Light snack and coffee on Kanoni lookout
Maps of island
Tasting of greek products in Lazaris
Ticket for palace Achileon
Sightseeing of old town (with professional guide if is booked)
Return to your departure terminal- port of Corfu
Souvenir for memories per person
Program lasts cc 4.5 hours